Now run Tally ERP 9 on Linux
Enjay Tiguin Linux thoroughly tested in Tally Environment and backed by confidence of many happy customers. Click to visit Tiguin on Tally Website
How to run Multi-user Tally on Linux
Tally runs faster on Linux
Software piracy is biggest problem for SMEs in emerging economies like India . Most of the SMEs use Tally, Office, Internet and email. With Enjay Tiguin Linux OS, you can run Tally erp 9 on Linux flawlessly.
With nationwide network of implementation and training partners, the migration process and hand holding is taken care of properly. Enjay creates a win-win situation for end customers as well as partners, as customers get good value for money and partners get good margins and return on efforts.
With Tiguin Application server, it is also possible to use Tiguin with Thin Clients, any thin clients. Tiguin Application Server is compatible with any RDP based thin clients as well as NComputing products.
Tiguin Application Server Now available in 5 user and unlimited user versions.
Best for
SME
Most of the SMEs use Tally, Office, Email, Internet and business apps. Tiguin provides them on on Linux for the first time.
Tested in Tally environment
Thoroughly tested in Tally environment and backed by confidence of many satisfied Customers.
its from
Enjay
With a long history of expertise in Linux Operating system, a Linux solution from Enjay is always reliable.
Implementation
Partners
Trained implementation partners to help in planning, deployment, support and migration to Linux.
Training
Partners
Professional Corporate Training partners to train and hand hold your users to migrate from win+Office to Lin+office
Dedicated Call
Center
8/6 dedicated call center of qualified and trained support team to help with technical queries and implementation plan.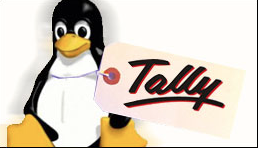 Tally is Accounting Package, which is life line of more than 90% of SME in India. SMEs are always short of budget for costly licensed Operating system and suite, hence they keep on looking for Free Open Source. For everything else they have had alternatives but not for  Tally. Tally on Linux has been a distance dream, but not any more. With Enjay Tiguin OS,  Tally can be run on a Linux OS.
Many people have tried running Tally on Linux but solution was not completely usable. Its Ok to run that in their Labs, but Customers would not accept it. Enjay Tiguin OS tries to answer everything regarding Tally on Linux.
Register for the Launch Event & Training Program
Features for Tally on Linux:
Desktop and Server variants available.
Register single user and multi user Tally on Linux – working.
Email from Tally – working .
All Tally Keyboard shortcuts – working.
Perfect Screen resolution and clear fonts – working.
Import to Excel for statutory requirements – working.
Backup / Restore function – working.
TDL Support – working.
Large Data & Linux server based computing – working.
I have kept the list to 9 because 9 also happens to be my favourite number ! ! !
Run Tally on Linux using Enjay Tiguin OS. Its not a Hack, its a professional Solution with a complete Partner and Support  eco-system.
Why Enjay Tiguin OS
Telephonic, Email and Remote Support – available.
Support available not only for OS but even for the Apps available on it.
Complete GUI working, no command lines required.
No Linux knowledge required to run Enjay Tiguin.
Easy to Install, update and maintain.
End mile support available from Enjay Partners near you.
All office apps included like office suite, Email app, browsers, communications apps etc.
Only for Desktops and Terminal Servers (not for DB,Email, file server etc.) – Clear focus on desktop users.
Built in readiness for remote support, one click and you are connected to Enjay Support.
You can get the DVD of Enjay Tiguin OS for Desktop / Terminal server from here.