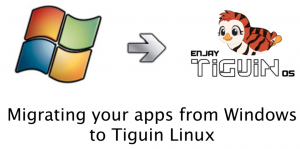 Almost any windows application can be migrated to Enjay Tiguin Linux OS. However all of us have to consider the concept of "Return on Efforts" for all of us. So if number of users for particular users are less, then its better to keep them on windows OS. In this article we explain the process to migrate your apps from windows to Linux.
Windows App migration services by Enjay.
We at Enjay provide these customised services, where we can help you migrate your windows app to Linux OS (i.e. Enjay Tiguin Linux). We have developed a proper matured and scientific process for the same. AND, it works, we know it for sure.
WE DON'T NEED YOUR SOURCE CODE, IT IS NOT REQUIRE. WE REQUIRE ONLY YOUR FULLY WORKING SOFTWARE.
We will also sign a proper NDA and SLA with you for safety of both the parties. Your Future updates will also be taken care of, don't worry.
Client Server Applications
When there is a client server applications, it is better to migrate client software on Linux, it is more rewarding for everybody involved. We keep the server component on windows only, and all the clients will start using Linux. For example if there is a dot.net app with MS-SQL server as back-end, we will migrate dot.net app to Linux environment, thereby helping you to save more. There by saving lots of money on desktop (or Terminal Server) licensing costs.
Who can apply ?
End users, who have quite few number of users for particular windows application. OR. Software Vendors, who develop windows based apps.
Process:
First, we need to receive request from either end user Company  or the software developer Company. We will need information regarding the software as follows:

Software description
Architecture of software in few lines (i.e. what platform is used, whether it is client server, what database is used, what is used to develop front end etc)

Secondly, we will need fully working version of the application.
Next, we will do initial testing for 2/3 days, and inform you regarding how much total time and cost will be involved in the migration process.
Next, once you approve the time and cost (by valid PO and payment if any), we start the work. Other details are given in "How do we do it" section.
How do we do it:
We test the software on windows, and then find out what resources the software requires. Then we imitate all those resources on Enjay Tiguin OS. Then we give the OS and bundled software to client for detailed testing, once we are comfortable.  Then Client has to check and test every feature and functionality of the software. If they find any bugs, we will fix those. Then we give you a FINAL OS + bundled application, which can be delivered directly to your users.
For your updates  / upgrades, we will give you a mechanism to handle those.