SugarCRM Tally Integration – Leverage the best of both Tally and SugarCRM. See your customers' ledgers as entered in Tally right from within SugarCRM. On a call and need to quickly bring up their account history? Need to create a new sales order on the spot? That and more is now possible thanks to this integration.


Benefits:
No need to leave the CRM screen while attending the customer call.
Duplication of work is avoided completely.
Complete information about one particular client – from one single point.
Works in standard SugarCRM reports module also.
SugarCRM integration with Tally – Real time Process
We give a small check box on the Account module "Export to Tally", if checked this account is synced with Tally with all the details it already has.
When ever a new inventory item is to be created, it will be created in CRM first and then "Synced" with Tally same as above.
Sales process is handled in CRM till closure of the order, so once you mark the quote/opportunity as "closed won" in CRM, it is automatically entered into Tally as a Sales order.
SugarCRM integration with Tally – Realtime info / analysis
On each Account module detailed view, there are few details which are fetched from Tally viz:

Balance
Bill by Bill Balance
Yearly ledger (click for details).
All time ledger (click for details).

All these details have a "refresh" button near them, so by default they will show last update from tally, but if you hit refresh, it will fetch real time information from Tally and show you
Same is also provided for Stock items, with or without stock serial numbers.
We also offer customisation services along with professional installation Services. Support add-on Pack available on yearly basis.
Using Tally for Your Business?
If your business is using Tally for your accounting, finance, sales, inventory, payroll, and/or manufacturing then you are in luck.
See presentation to know the real gems of Tally Addon
Eliminate Duplicate Work
Using SugarCRM and Tally creates certain areas where the duplication of work has to be done. This module reduces or eliminates the duplicate work all while integrating the best accounting package with best CRM.
Features
Can Create Ledger in Tally From SugarCRM Accounts Module.
Can Get Bill By Bill Detail From Tally In SugarCRM.
Can Link Tally Ledger to SugarCRM.
Can Sync Latest Closing Balance of Ledger from tally to SugarCRM.
Can Create/Update Sales Order/Sales Voucher From SugarCRM to Tally.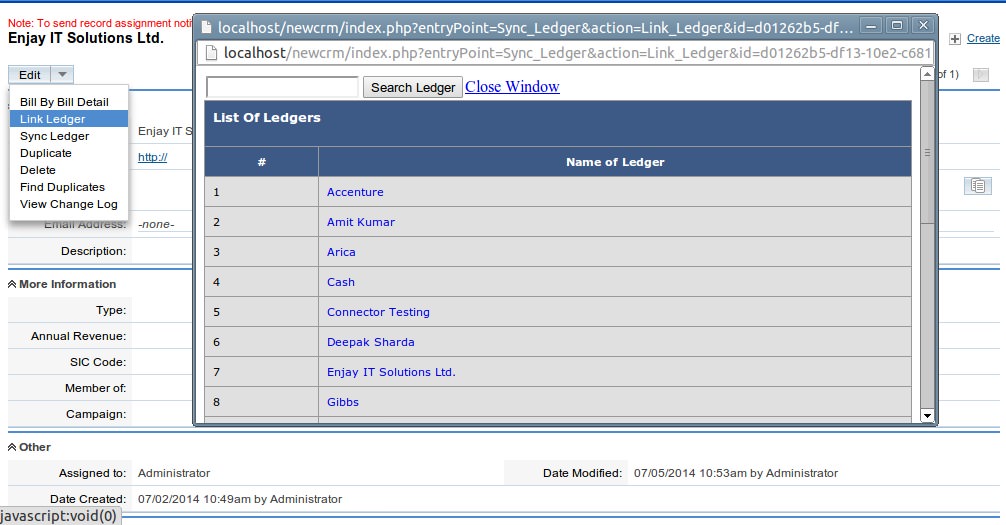 Need Customization ?
We are there to make the customized version of the addon with some additional charges.

Product
Author Rating
Brand Name
Product Name
SugarCRM Tally Integration
Price
Product Availability